Saturn 5 Photography - 2005-05-13-World_Record Gallery
Home | Events | Galleries | Retouching | Blog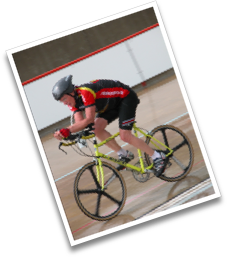 On the 13th of May 2005, Steve Gerbig set the UMCA World Record for the 100 mile time trial on track, at 5 hours, 17 minutes, 38 seconds.
I was there, and got a few hundred good shots of the action (although to be fair, watching one guy go around in circles for 5 hours only barely counts as "action"). Those of us there to support his ride had the luxury of taking shelter from the sun under a canopy, and later, huddling under the same canopy when a serious storm rolled in.
But Steve had to stay on the bike and keep rolling. Even when the officials from the track threatened to shut the event down!
| | | |
| --- | --- | --- |
| Help support this site | Sponsored Ads: | |